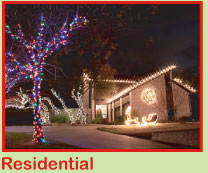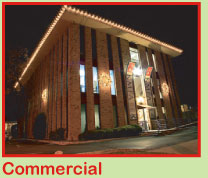 Our professional Christmas light installation and decorating service will make your home or business look fabulous this Holiday Season. We service the entire Austin, Texas area.

Get ready for parties and Christmas with the family without all the fuss. Let us help you create a beautiful holiday season with stunning displays of outdoor colorful Christmas lighting and decorative wreaths.

It's the convenient, easy way to add sparkle to the holiday season. We do a custom design for you, hang your lights and decorations, take them down at the end of the season and store them for free. What could be easier? Call or email for a free estimate today.
Let The Christmas Light Guys Do It.
We are the professional Christmas Light Installers

Whether you want a simple, elegant look with just roofline lighting and a big sparkling Christmas wreath and garland, or a stunning over-the-top display to be the envy of all your neighbors, we can do it.

• Front and Facia (roofline) Lighting
• Pre-lit Wreaths
• Pre-lit Garlands with Wire Wrap
• Door Trims
• Window Trims
• Tree Trunk Wraps and Canopy Lighting
• Hedge Lighting
• Walkway Lighting